Travis Collier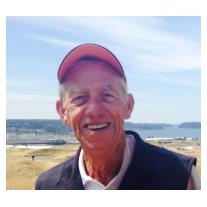 Date Of Birth

:

October 30, 1941

Date Of Death

:

August 12, 2017

State

:

Montana
Travis Paul Collier was born October 30th, 1941 in Wichita Falls, Texas to Neal and Anne Collier. He passed away at home in Kalispell on August 12, 2017 due to congestive heart failure. He is survived by his wife, Beth; daughters Susan Harsh and husband Kurt, Courtney Rudbach and husband, Karl and their children, Maggie and Will. He is also survived by brothers Troy and Stuart of Texas, Norman Haug and wife, Sharon, sister Virginia Haug, and nephews Blake and Ethan Haug.

At a young age, Travis moved to Choteau with his mother where he was one of a handful of students at the Bynum one-room school, and graduated from Choteau High School in 1959. After graduation, he joined the Navy as a sonar technician on the U.S.S. Turner Joy. After serving, he moved to Whitefish, where he met the girl next door, Beth Adaskavich. They were married in the Whitefish Methodist church and later moved to Shelby where Beth's father enlisted Travis to help farm wheat and barley — a job that lasted the next 50+ years. While living in Shelby, Beth and Travis raised their two delightful girls, Susan and Courtney. Travis was active in the local community, serving many years on the Shelby School Board, was member of the Elks, the Jaycees and the Methodist Church, and was on the Board of Directors at the First State Bank of Shelby in his retirement years.

Travis loved to ski and was always up for taking his daughters and their friends to Teton Pass, Showdown and Big Mountain. His other passion was playing golf, and after many, many years of hacking, he finally made a hole-in-one at the 1999 Marias Valley Farm And Ranch Tournament. But wouldn't you know it, due to the poor crops that year it was the only time in tournament history that KSEN radio didn't offer a fancy new combine or pickup for a hole-in-one prize!

Travis was a loving husband and devoted father; Papaw to not only his grandchildren but also honorary grandchildren Colin, Connor and Kennah Beth Fuller.

Travis knew he had a good life. In his last days he reflected on his time spent with his friends and family on Whitefish Lake, the Collier's famous 4th of July parties, his good friends on the golf course and those that had gone before him. In his later years, he was a regular at the Wave and the Summit, always up for an "executive workout", which was equal time working out and chatting in the hot tub.

Travis' favorite uncle, Joe Collier, passed away on the same day. The family is comforted by knowing the two old cowboys rode off into the sunset together….probably catching one last rodeo on their way up to heaven.

The family would like to thank the staff of Frontier Hospice, Kalispell Regional Hospital, North Valley Hospital and particularly the care given to him for many years by Dr. John Kalbfleisch.