Ruth Mae Nelson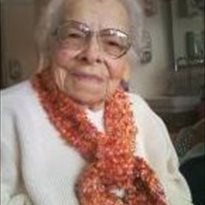 Date Of Birth

:

May 25, 1916

Date Of Death

:

February 17, 2016

State

:

Montana
        Ruth Mae Christensen Nelson, beloved wife, sister, mother, grandmother, great-grandmother, great-great grandmother and friend to so many passed away on February17, 2016 at the age of 99, three months shy of her 100th birthday.  She was a resident of Immanuel Lutheran Home for 6 ½ years.
        Ruth was born in Mercer, North Dakota on May 25th, 1916 to Martin & Christine Christensen.  The 4th of 12 children, was raised in North Dakota.  Her education started in Mercer for a year then to Gardena, ND for a year, then a year in a country school at Trinity, north of Kenmare, ND.  She continued the rest of her schooling in Kenmare through the 11th grade of High School.
        Ruth cleaned houses in Kenmare until 1934, then headed to Minneapolis, MN.  She ended her housecleaning days in 1939 and started Nurses Aid Work in St. Paul, MN at the Old Bethesda Home.  After two years, went to Augustana Home for a year where she worked nights until she married in 1941.
        Ruth met Martin Luther Nelson(Lute) in 1940 and they were married, October 18, 1941 in Minneapolis MN.  They were married for 56 years.  While Lute was in the service, Ruth stayed in Minneapolis with her sister Emma until 1942 when she returned to Kenmare to help out the family after her mother passed.  In 1943 Ruth & Lute moved to San Luis Obispo, California and lived at Pismo Beach.  Ruth worked in a food market for five months and moved to Huthchinson, Minnesota when Lute went overseas in August, 1943.  She again lived with Emma in Hutchinson on Main Street.  Ruth worked nights as a Nurse Aid at the Hutchinson Hospital for three years.  Lute accepted a job at the Hungry Horse Dam, Montana in April 1950 and the family moved to Montana for two years.  Family Friends, Lowell & Jeanette Wright offered Lute a job back on the farm in Hutchinson MN, March 1953. They moved back to MN for over two years.  Lute then accepted a job for Anaconda Aluminum Company in Columbia Falls, MT, July 1955 and again moved back to Montana.  There were no rentals available so they were forced to buy a house.  They purchased part of the old Evergreen School building and made it their home.  Ruth's brother John also bought part of the school building as well.
Ruth worked as a Nurse Aid at the Immanuel Lutheran Home for 11 years from 1969-1980.  Both Lute and Ruth retired in 1980.  They spent some time in Arizona enjoying retirement.  However, they both agreed there was no place like the Flathead Valley.  Ruth and Lute were charter members of Calvary Lutheran Church, Kalispell.
        A long- time friend, Florence Borgen shared with us that Ruth was the BEST cook in Flathead County….For Sure!
        Ruth was committed to her Church work, from pie socials, Lefsa baking, quilting, potlucks, council meetings, Sunday School Teacher, Church Choir, Ladies Aide to name a few, she  devoted her life to helping others.  Her life was her church, her family and her grand kids.  She was always so great a taking charge and making sure every detail got taken care of.. just made things happen.  It was one of her many gifts.  She earned the name "Sarge" from her siblings and family heritage.
        Ruth is proceeded in death by her husband Martin, her parents, son Howard, six sisters:  Emma, Margaret, Mary June, Grace, Aimee & Elsie, three brothers:  Alvin, Hank & John and granddaughter Sarah.
        Ruth is survived by two brothers:  Dave Christensen and Duane Christensen both of Bemidji, Minnesota, two daughters & three sons and their families:  Jane & Michael Radel, Joyce & Kent Schaumburg, Duane & Nancy Nelson, Lowell & Yvonne Nelson, Warren Nelson all of Kalispell area.  She is blessed with 14 grand-children:  Ken, Angela, Sonya, Carrie, Andrew, Matthew, Ryan, Nate, Jason, Megan, Zack, Greg, Kali & Kaylan.  She also has 11 Great-Grandchildren:    Ken, Jr., Kurtis, Kane, Alex, Kaydence, JD, Leah, June, Piper, Bethany & Sarah. Rounding out the list are three Great-Great Grandchildren:  Tavin, William & Wyatt.  Her extended family is over 450 strong.
        You are free to run a race now Mom… you have earned it!