Ruth Hamilton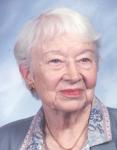 Date Of Birth

:

November 15, 1912

Date Of Death

:

July 16, 2014

State

:

Montana
Ruth Leeper Hamilton, 101, of Great Falls, passed away July 16th, 2014 at Highgate Senior Living of natural causes.
Ruth was born on November 15, 1912 in Rush County Kansas on the homestead of her maternal grandparents in the same house in which her mother had been born twenty two years earlier.
Ruth attended Kansas State University where she was a member of the Tri Delta sorority. She also attended and earned a Bachelor's degree from the Great Falls College of Education.
She began a teaching career in the 1930's in one room school houses in dust laden and depressed rural Kansas. Later, during WW II, she taught in the Los Angeles School District in Reseda, California. In Great Falls she was on the faculty of the Largent School where she often referred to herself and other teachers as the Largent Lovelies. She then became one of the first special education teachers in Great Falls, a position she held for fourteen years. She is a member of Delta Kappa Gamma, a professional honorary society of women educators.
Ruth married John Wesley Leeper in 1935 in Garden City, Kansas. John was a registered pharmacist and local radio host. In 1941, Ruth and John left Kansas because of debilitating dust storms and a declining economy to join her parents, Walter and Deana Hopkins, in Great Falls. Shortly after arriving in Great Falls, World War II broke out and John volunteered for service in the US Army as a pharmacist. He served in the Philippines and was honorably discharged in 1946 as a disabled veteran. Prior to leaving for California, Ruth worked for the Army Air Force in Great Falls at East Base. For part of the duration of the war, Ruth and her son, John, lived in various parts of California including Salinas, Reseda and Fullerton.
After the war, John worked as a pharmacist in Great Falls, Harlowton and Livingston before obtaining an equity interest in the Drive in Drug on 9th Ave South in Great Falls. John passed away in 1980. In 1986, Ruth married Mack Hamilton, a well know local accountant and civic leader. The marriage ended with Mack's death in 1996.
Ruth is a member of the First Presbyterian Church. Over the years she was also active in the Congregational Church in Great Falls and was pro-active in fellowship and Sunday school activities in both congregations.
Ruth is survived by her two children, John H. Leeper of Big Sky, Montana and Carol Leeper Shanahan of Great Falls; her grandson Scott Shanahan and his daughters Kassidy, Hailey and Hanna of Great Falls; her grandson Ryan Shanahan; her granddaughter Traci Shanahan Williams and great granddaughter and great grandson Natalie and Tyler of Denver; Brooke Shanahan Meyn, her youngest granddaughter and Brooke's two children Connor and Tristan of Minot, North Dakota; her oldest grandson, John D Leeper of Koloa, Hawaii; and her grandson, Matthew Leeper and his daughter Isabel and son Calvin of Atlanta, Ga. She is also survived by numerous nieces and nephews.
Ruth was preceded in death by her parents, Walter and Deana Hopkins; her first husband John W. Leeper; her second husband Mack Hamilton; her brother George T. Hopkins and her sister Eloise Dean Gagle.
The Family wishes to express its sincere appreciation to the staff and management of Highgate Senior Living for their caring and profession attention to Ruth.