Jaymee Ilon Johnson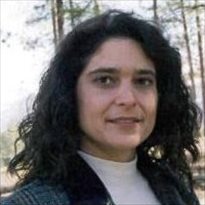 Date Of Birth

:

October 29, 1963

Date Of Death

:

August 13, 2016

State

:

Montana
Jaymee I Johnson, age 52 died peacefully in her sleep Friday August 13, 2016 unexpectedly in the comfort of her home. Jaymee was born October 29, 1963 in Great Falls MT to Joyce Brooks-Pasha and James L Shepard.

Jaymee went to elementary school in Great Falls, attended High School in Kalispell, and graduated with a B.S. in Environmental Science from Salish Kootenai College.  

Jaymee briefly lived in Arizona where her oldest daughter Charla was born, then moved back to her home state of Montana to be with her family in Kalispell, where her son Tory was born 4 years later. Throughout the years she was very involved and a huge supporter of her children's activities. She was always on the road traveling and supported all their events. She was hard working and loved to be involved wherever she was needed. Jaymee loved to fish, camp, enjoyed time with family and friends, and walked on water for her "Angel Girl" Jaylynn (granddaughter). She had a heart of gold and always left her door open for anyone that needed to talk or a place to stay.

Jaymee is deeply loved and missed by her friends and family.

She is survived by her mother Joyce Brooks-Pasha (Jim) of Great Falls; father James L Shepard of Kalispell; daughter Charla Johnson of Whitefish; granddaughter Jaylynn Johnson of Whitefish; son Tory Bick of Great Falls; brother Damon (Angie) Johnson; Nephew Dustin Johnson of Ronan, Dillen Johnson of Great Falls, and Michael Sluder of Whitefish. She is also survived by several loving relatives, friends, and extended family.

Jaymee was preceded in death by her grandparents Charles W. and Eulalie Brooks of Kalispell, Rose (Deranleau) Shepard of Kennewick WA, Aunt Donna and Uncle Alan Kuespert of Kennewick WA, and Aunt Dorothy of Seattle WA.

The family wishes to thank all of those who gave support, love and friendship throughout her life and during this difficult time.