James Everett McCoy, Sr.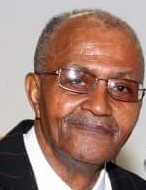 Date Of Birth

:

October 1, 1929

Date Of Death

:

November 25, 2020

State

:

North Carolina
When peace, like a river attendeth my way, when sorrows like sea billows roll, whatever my lot. thou hast taught me to say, it is well, it is well, with my soul."
It is with great sadness that we announce the passing of Mr. James McCoy who answered the Master's Call on Wednesday, November 25, 2020 surrounded by his loving family.
James Everett McCoy, son of Clifton and Ethel McCoy was born on October 1, 1929 in South Mills, North Carolina.
He was united in Holy Matrimony to Lucille Manley on April 19, 1977. By blending their families, they were blessed with six children, James McCoy, Jr., Johnny McCoy, Andrew James, Samuel Manley, Martha Powell, and Cecil Manley, Jr.
James worked and retired from Weyerhaeuser Lumber Company. He had a love for sports and was very knowledgeable about every NFL, NBA, MLB team, Golf and Tennis. He could hold a conversation with anyone about sports. He also loved the Lord and enjoyed attending church. He would break out in a song sitting on the couch at any time.
Being reared in a Christian atmosphere by his parents, he became a member of Antioch Baptist Church early in life. He later moved his membership to St. Stephens Baptist Church, where he sung in the Male Chorus and was known for his song, "Somebody touched me". As his wife, Lucille's health began to fail, he joined New Sawyer's Creek Baptist Church to fellowship with her during her last years.
He was preceded in death by his wife Lucille McCoy; Sons: Johnny McCoy, Andrew James, Samuel Manley and Cecil Manley, Jr.; Great-Granddaughter, Jamel McCoy; Parents, Clifton and Ethel McCoy; Sister, Elexeva Boone; Brothers, Charlie McCoy and Raymond McCoy.
He leaves to cherish his memories: His Son, Rev, James McCoy, Jr. (Debronetta); Daughter, Martha Powell (George); Daughter in law, Paulette McCoy, 17 Grandchildren, 40 Great-Grandchildren, 10 Great- Great Grandchildren, and a host of nieces, nephews, cousins, and friends.