Garfield Nicholas Servo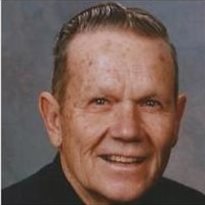 Date Of Birth

:

December 21, 1933

Date Of Death

:

April 24, 2016

State

:

Montana
Garfield Nicholas Servo, 82, passed away at home in his sleep on April 24, 2016 after a brief battle with cancer and heart failure.  Much thanks to his daughter Karen for caring for him during his last 11 months so he could stay home.  Garfield was born to Nick Servo and Freida Storholm December 21, 1933 in Sidney, MT.  He was the oldest of seven children.  Garfield enlisted in the US Air Force before finishing high school.  He got his GED, and was stationed in England during the Korean War.  He was an instrument mechanic from 1952-56.  On November 15, 1953 he married Norma Ginther in Fairview, MT.   They had three daughters, Sherry, Joyce and Karen.  Norma and Garfield moved to the Seattle area

in 1957.  Garfield worked at Boeing, Todd's Shipyard, and later in new construction while learning the electrical trade. After moving the family back to Montana in 1969 he worked for the aluminum plant and Plum Creek in Columbia Falls.  Garfield continued his electrical education while working full time and received his Master's license.   In 1974 Garfield started his own business building houses as a contractor, Servo Construction.  He built many houses in the Flathead Valley and also did handyman work, repairs, and remodeling.  He loved building and was a very hard worker, rarely stopping to chat while on the job!  
Garfield was a self-taught guitar player, and formed a band with his wife Norma and daughter Karen in the 70's.  They played locally for many years.  You could always enjoy dancing to their polkas, waltzes, and country music.  Garfield and Norma were excellent dancers, and enjoyed dancing every weekend they could.  They enjoyed camping, fishing, hunting, pinochle, and especially their family and grandkids.  Garfield had a great sense of humor, and always had a twinkle in his eye when he was telling a good story.  Garfield lovingly cared for his wife Norma until her death on June 16, 2014.  
Garfield was a long time member of the Eagles and Moose Clubs.
Garfield is survived by his daughters Sherry Abel and partner Brian Whirry of Kalispell, Joyce Hanson and her husband Darren of Kalispell, and Karen Servo at the family home, and Springfield, OR.  He has five grandchildren and seven great-grandchildren which he loved dearly.  Grandkids include Christa Handford of Kalispell, Joel Mueller of Vancouver, WA, Michelle Thomas of Bend, OR, and Jake Finsaas of Springfield, OR.

Sisters Sharon Woodworth of Arizona, Linda Eaton of Glendive.  Brothers Peter Servo of Pahrump, NV, Nicky of Stockton, CA, Doug Servo of Kalispell.
Garfield was preceded in death by his wife Norma Ginther Servo, granddaughter Jennifer Lynn Servo, sister Gayle Harp Zinn, and son-in-law Thomas Abel.