Frederick Trapp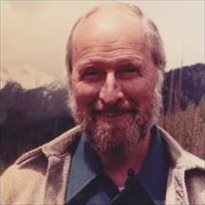 Date Of Birth

:

June 14, 1922

Date Of Death

:

February 29, 2016

State

:

Montana
Frederick John Jacob Trapp, Jr. of Bigfork passed away on February 29, 2016, peacefully in his home at the age of 93.  He was born June 14, 1922 in Belvidere, Nebraska to Frederick and Florence (Krips) Trapp.

He enlisted in the Marines at the age of 18 and served in World War II in the South Pacific as a radio/communications technician.  Upon his honorable discharge, he returned to Pennsylvania.  With the encouragement of his Marine buddies, he applied to college and was accepted at the University of Colorado in Boulder, graduating in 1949, earning a degree in Mechanical Engineering at the top of his class in three years.

While attending college, he met and married the girl next door, Marion Vogel.  They were married for 60 years and raised seven children in Boulder.  He was a Scout Master for Boy Scout Troop 72 and had a positive impact on a generation of young boys sharing with them his love of the outdoors, hiking, fishing, and camping in Rocky Mountain National Park.  He spent many weekends with his family picnicking, hiking and fishing in the Park.

He worked for the Atomic Energy Commission at Rocky Flats in Boulder, Colorado for 28 years as a Mechanical Engineer.

He and Marion retired to Bigfork, Montana ("the last best place") in 1981 where he loved fishing and hiking in Jewel Basin, the Swan River and Lake McDonald.  His favorite spot was Crane Mountain where the huckleberry picking was good and where he cut firewood in his "personal Athletic Club".  Fred and Marion helped revive the Bigfork Inn where they loved to dance on Friday and Saturday nights to the Company Brass.

He was an active member of Sacred Heart of Jesus Church in Boulder and St. Catherine's and Saint John Paul II Catholic Church in Bigfork.  His deep Catholic faith sustained him through the years especially when he personally cared for his wife Marion for many years until her passing in 2008.

He was preceded in death by his wife Marion, a brother and sister and an infant daughter.  He is survived by seven children:  David, son Henry; Caroline Pitz (Chuck) children Nicholas and Nathan; Chris; Suzie Keenan (Bob) children:  Marissa Dauenhauer (Sam), Conor (Laura), Kyle, Sara, and Ryan; Judy Schmutz (Karl), children Christian, Loren, Ann Trapp (Steve Furchner), son Alex; and Monica Tilton (Scott), children Bayne and Burke and 10 great grandchildren.