Deacon Dennis McCrea Daniels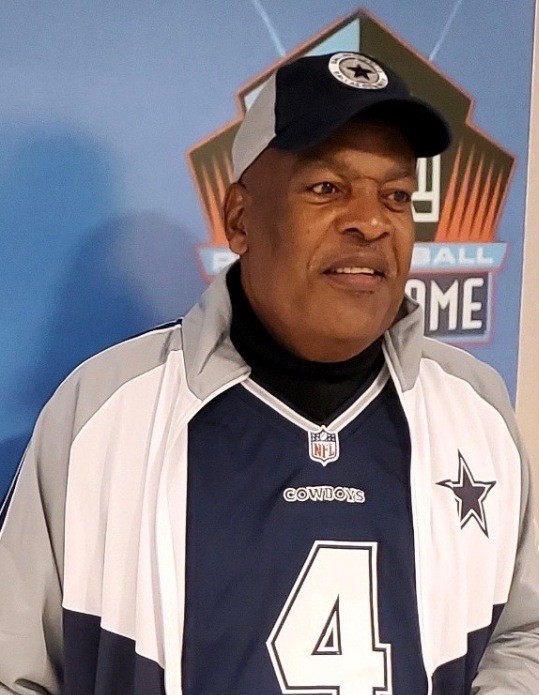 Date Of Birth

:

March 30, 1958

Date Of Death

:

September 15, 2020

State

:

North Carolina
"When peace, like a river attendeth my way, when sorrows like sea billows roll, whatever my lot. thou hast taught me to say, it is well, it is well, with my soul."
It is with great sadness that we announce the passing of Mr. Dennis Daniels of Elizabeth City, North Carolina who answered the Master's call on Tuesday, September 15, 2020 at his residence.
Deacon Dennis Daniels, was born to the late George and Ella Daniels in Halifax, North Carolina on March 30, 1958.  On September 15, 2020, at the age of 62, he departed this life in Elizabeth City, North Carolina at his home surrounded by his family and friends.
Dennis was educated in his early years in the Weldon City Public School System in Weldon, NC.  He graduated from Weldon High School in 1976 and received a scholarship in music to attend Saint Augustine College playing the Tuba.  Fresh out of college in 1980, Dennis started as a Correctional Officer (CI) at Caledonia Correctional Institution.  Later, he would then move to the new Pasquotank Correctional Institution in 1997 as Captain.  That began a journey that eventually took him to Gates Correctional Institution, Maury Correctional Institution and then back to Pasquotank Correctional Institution where he retired in November 2019 as the Warden.  After 40 years of dedicated service, Dennis knew it was time to let it go, pass the torch and focus on his health and spend time with his family.
During his tenure he received many accolades and recognitions but a few stood out the most to Dennis.  Deacon Dennis Daniels served on the Prison Emergency Response Team (PERT) and rose to the ranks of Commander of Eastern Region.  He was awarded the 2018 Warden of the Year for the state of North Carolina and was presented with the Highest Civilian Award from the Governor, The Order of the Long Leaf Pine.
At 56, Dennis rededicated his life to Christ at St Stephen Missionary Baptist Church in Elizabeth City, NC under the leadership of Dr. Ricky L Banks where he was an ordained Deacon.  Dennis sang in the Male Chorus and remained an active faithful member until his health started to decline and was chosen to be with the lord.
Dennis had a strong burning passion for football, as he was a die-hard Dallas Cowboys fan.  He also was a member of the Historically African-American Greek Fraternity Phi Beta Sigma Incorporated and a member of the Prince Hall Free and Accepted Masons.
Dennis leaves behind to cherish his wonderful memories, his wife of 6 years Tawanna Roberts Daniels, 5 daughters LaToya Daniels, Kimberly Key (Brett), Jeneane Daniels, De'Nasia Daniels and De'Nesha Daniels, 2 step children Shaniqua Adams (Jeff) and Naquan Gant, 6 grandchildren Daniel Key, Damori Adams, Taylor Daniels, Alivia Key, Shaniyah Adams and Mila Key, 3 brothers Robert Lashley (Mary), George Daniels (Marcia) and David Daniels, his mother-in-law Betty Roberts and a host of nieces, nephews, cousins and friends.