Betty Anne Bitney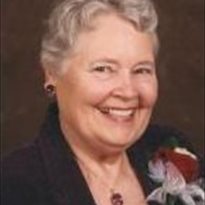 Date Of Birth

:

May 7, 1928

Date Of Death

:

September 28, 2016

State

:

Montana
Betty Anne Bitney, 88, died September 28, 2016 surrounded by her family in Kalispell. She was born to Carl and Tina Smith Widdowson on May 7, 1928 and raised on the family farm. Betty attended Egan Grade School, a one-room school house and graduated from Flathead County High School in 1946. She married Duane Bitney, her high school sweetheart and best pal, in 1948.

Betty loved her family, loved to laugh, was creative, hard- working, and meticulously detailed in everything she did. She was devoted to her children, and her husband, and worked many long hours selflessly attending to the needs of her business household. She was an excellent cook. Betty was an expert seamstress and also enjoyed crocheting and knitting.

Betty worked at several businesses as a bookkeeper over the years, including Bitney's Furniture, which she and Duane owned. She was also involved in many youth activities including, Cub Scouts, Brownies, 4-H, Bible School, and Teen Town. She and Duane hosted the Kalispell Music Club in their home for many years. Betty was dedicated to her church, was involved in Church Circle, P.E.O. Chapter C, Bible Study Fellowship, and coordinated many family reunions at the Flathead Lutheran Bible Camp. Betty was an excellent teacher who taught many of her kids and grandkids her homemaking and business skills.

The Furniture and Boise Cascade Home businesses allowed Betty and Duane to travel extensively, and took many trips to various destinations around the world, often accompanied by their children, friends and other relatives. Betty loved to play cards with friends, family, and Duane, and was an accomplished bridge player. She enjoyed gardening, reading, and poetry of which she wrote many original poems. Betty's favorite place was the family lake home on Flathead Lake where she enjoyed many seasons with family and friends, watching her children growing up playing at the lake, then her grandchildren and finally her great-grandchildren.

Betty was preceded in death by her husband Duane, sister Ruth, son Sid and grandson Joel. She is survived by her children Rod, Cindy, Sandy, her husband Larry, Bye and wife Kay, and daughter-in-law Dianne Bitney whose families include 13 grandchildren and 12 great-grandchildren. Also surviving Betty are her sisters Carlene Peters, Marie Peters, sister-in-law Joanna Bitney, and many nieces and nephews.