William Edward Cole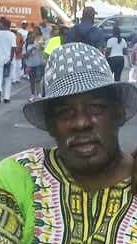 Date Of Birth

:

July 21, 1947

Date Of Death

:

October 6, 2018

State

:

North Carolina
Mr. William Edward Cole, son of the late Henry Edward and Mary Cole, was born on July 21, 1947 in Moore County, North Carolina. He departed this life on October 6, 2018 in New York.
He attended Zion Grove AME Zion Church in Eagle Springs, North Carolina in his youth. He moved to New York at an early age and stayed until his death. He attended Bethlehem Moriah Baptist Church under the leadership of Pastor Felton McNarie until his health failed.
He is preceded in death by his parents Ed and Mary Cole. Two brothers Leon Cole and Rochelle Cole. Three sisters, Alberta Richardson, Katherine Person and Cladina Cole.
He leaves to cherish his loving memories: Five brothers, James Robert Cole of New York, Johnnie Cole of Virginia, Larry Cole and Roger Cole both of Eagle Springs, North Carolina, and Meshack Cole of Virginia. Four sisters, Helen Hatcher (Frolin), Ollie Cooper, Cliffordene Davis (Claudis) all of Eagle Springs, North Carolina and Michele Cole of Durham, North Carolina. And a host of nieces and nephews that William considered as his children. William had a special cousin that took care of him during his sickness, Perry Cole. The family is truly grateful for Perry's help and everyone else that stood by him in his hour of need. William also leaves behind a host of cousins and other relatives and friends.