Ruth Rogers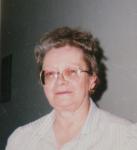 Date Of Birth

:

December 8, 1932

Date Of Death

:

November 29, 2015

State

:

Montana
Ruth M. (Korin) Rogers, 82 of Belt, passed away on Sunday, November 29, 2015, at Benefis Peace Hospice, from complications related to diabetes.
Ruth was born on December 8, 1932 in Great Falls, MT to Eino and Impie Korin. She grew up in the Sand Coulee area, graduating from Stockett-Sand Coulee High School. She attended Montana State University-Bozeman for a year before returning home to help when her dad had a heart attack. On June 14, 1953 she married Robert Melvin Rogers and had two children. During that time they resided in Sand Coulee and then in Los Angeles, CA. In 1960 Ruth got divorced and returned to Montana, making her home in Belt. While there, she worked as a bookkeeper at FA Buttreys department store and then as a claims processor for Blue Cross in Great Falls. When Blue Cross and Blue Shield merged, Ruth retired. For a number of years, Ruth lived in Lewistown where she spent time with her grandchildren when they were young, before returning to Belt.
Ruth is survived in death by her two children Lynne (Steve) Klippenes and Jack Rogers, 4 grandchildren, and 2 great grandchildren.
She was preceded in death by her mother Impie S. Haglin Korin and her father Eino J. Korin.