Mildred "Milly" Gilstad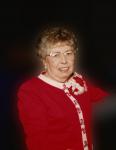 Date Of Birth

:

April 6, 1918

Date Of Death

:

August 29, 2015

State

:

Montana
Mildred Verna Gilstad, 97, of Great Falls, passed away August, 29, 2015 at Peace Hospice.
Mildred was born April 6, 1918 in Climax, Minnesota to Helmer and Laura Bangen. She and William Gilstad were united in marriage on February 18, 1945 in Crookstown, MN. They moved to Montana in 1945 and built a home in Great Falls.
Their home was their pride and joy – taking care of the yard and a huge garden that accompanied it every summer. Her apple trees and raspberries bore fruit, and lessons about weeds and fertilizer. Milly's coffee table always featured interesting things to read and do. She loved to host large holiday dinners at her home, Christmas, New Years, and many other celebrations – her festivities were on par with Martha Stewart. Her outfits, beautifully in style and season! Mildred imparted her hostess skills upon her nieces and nephews, teaching them sewing, housekeeping, silver polishing, how to clean just about anything and gardening. She also shared stories of growing up during the Depression Era. Her kindness and generosity are recalled fondly by all who knew her.
During her career, Mildred was employed at Montgomery Ward's department store. She also managed apartment buildings she and William owned. Her prowess with detail and tidiness also lent to an additional career as a cosmetic consultant with Beauty Counselor. She was a very beautiful and accomplished lady, with a strong work ethic and take charge personality.
In her free time Milly enjoyed cooking and baking, traditional Norwegian delights were always a favorite. Cookies, meals and breads were enjoyed by family and friends over card games, pinochle, and reminiscing. Mildred was an active league bowler for many, many years. She had many close friends she kept in touch with over the years, playing cards, talking over coffee and sending mail correspondence.
She is survived by her siblings, Arlone Wokasch of Lakewood, CA; Orlean (Shirley) Bangen of Climax, MN; Irwin (Bev) Bangen of Hot Springs, MT; Roger (Marlys) Bangen of Eau Claire, WI; and many nieces and nephews.
Mildred was preceded in death by her husband of 52 years, William; parents; siblings, Ruby Broden; Fylies (Jevning) Roadhouse and Harold Bangen.