Eugene Patrick Foley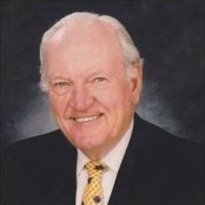 Date Of Birth

:

November 22, 1928

Date Of Death

:

December 30, 2015

State

:

Montana
Eugene Patrick Foley, 87, died on December 30, 2015 of natural causes in Whitefish, Montana with family by his side. Mr. Foley was the eighth born of ten children of John R. and Ellen "Nellie" Brennan Foley of Wabasha, Minnesota. His father was a renowned country lawyer and County Attorney. His mother was an indomitable spirit originally from Centralia, Pennsylvania. After graduating from St. Felix High School in 1946, Gene enlisted in the army and served in the infantry in Korea until 1948. He graduated with a B.A. in Philosophy and Political Science from St. Thomas College in St. Paul where he was elected the Grand Tiger of the Tiger Club and studied a year abroad at the Institute of European Studies in Vienna, Austria. He then earned his LLB at the University of Minnesota Law School.

Mr. Foley was a longtime senior campaign and policy advisor to Senator and Vice President Hubert H. Humphrey. He served as one of Mr. Humphrey's Campaign Managers in both the famous West Virginia and Wisconsin Primaries of 1960. From 1961 to 1963 he was an Executive Assistant to the Secretary of Commerce. In August 1963 he was appointed by President John F. Kennedy to be the National Administrator of the Small Business Administration. In this capacity he expanded the role and size of the SBA, created the Service Corps of Retired Professionals (SCORE) and pioneered Affirmative Action by establishing the Equal Opportunity Loan (EOL). In 1965 President Johnson appointed him to be Special Assistant Secretary of Commerce for Economic Development to spearhead the Great Society Program of the 1960's. He was a key member of Johnson's emergency response team and was prominent in the recovery of Alaska after the Great Earthquake of 1964 and Louisiana after Hurricane Betsy. In 1965 he was voted the International Boss of the Year by the National Secretaries Association for which he was featured on the game show "What's My Line".  He was awarded the Arthur Flemming Award presented to the 10 outstanding people in Federal Government under the age of 35. In 1966 he won the Government Man of the Year Award from the National Business League.

After leaving government in 1967 he advanced President Johnson's trips to Australia and the Vatican while writing The Achieving Ghetto, a landmark book promoting urban economic development through jobs for the underprivileged. He was a subject in a number of books including Oakland's Not For Burning (1968), The 21st Ballot (1969),  Big Government and Affirmative Action (2001), and Business in Black and White (2009) among others. In 1968 he was Humphrey's Campaign Manager in New York where he moved the family after the Presidential Election. They lived on Central Park West until 1970 and then moved briefly to Larchmont before settling in Hastings on the Hudson, New York. Mr. Foley was the President of a subsidiary of Occidental Petroleum from 1967-1969 which took him around the globe meeting world leaders. From 1969-1971 he was a Vice President at the Dreyfus Corporation.  In the early 1970's he started Foley and Associates, a financial consulting firm for small and medium sized companies. He served on many boards including the African American Institute (1968-91) and was President of the National Committee on American Foreign Policy (1976-81). In the 1990's he returned to Washington D.C.

Genial Gene was a champion of small business throughout his life and was a well travelled and beloved raconteur. He loved the theater and was a close friend of many of the actors and directors of the Abbey Theater in Dublin, Ireland. He loved philosophy and poetry and science and sports. He never stopped learning and audited classes at George Washington University well into his 70's. He was raised a Catholic and was particularly drawn to the Philosophy of Teilhard de Chardin but his daily religion was the New York Times. He loved the Yankees and the Giants and the Notre Dame Fighting Irish. He was a regular at Toots Shor's, Sardi's, P.J. Clarke's and the Lion's Head. He was portrayed in an article by Jimmy Breslin for his role in the Humphrey Campaigns of 1960 and 1968 in which he described him as "one of these guys who can sit through a meeting with you until 4 a.m. and then be at his desk at 8 a.m. and work through until an hour or so before midnight and then he will meet you for a drink.

He was pre-deceased by three brothers and two sisters. His sister Mary Foley Ferron of Arlington, VA; his brother Congressman Jack Foley of Silver Spring, Maryland; his brother Judge Daniel Foley who served on the Minnesota State Court of Appeals and as the National Commander of the American Legion in 1964; his brother Francis and sister Rose Foley Miller of Rice Lake, Wisconsin.